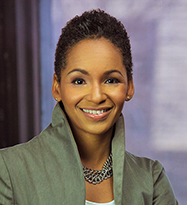 Monika Black
Chief Strategy Officer
To grasp Monika Black's resolve, picture a high jumper soaring above a 6-foot, 2-inch bar in NCAA Division I track and field competition. Now picture Monika doing so, standing a mere 5 feet, 4 inches tall and earning All-American status four times while at the University of Michigan. Monika (Mo-NEE-ka) has long since hung up her track shoes. But she has never stopped striving.
Monika proceeded to earn master's degrees in clinical psychology and health administration at Ohio State University, then a doctorate in community psychology at DePaul University.
She worked at one of the top-rated hospital systems in the country before launching two businesses, includingTandemSpring, a management consultancy that assists startups, established companies, and nonprofits with program design and development, strategy and operating plans, and coaching; DyMynd, a boutique enterprise focused on helping financial institutions forge stronger relationships with female clients; and LCL ̶ Beautiful Faces, a 501c3 that creates and promotes programs to empower girls and women from the inside out.
Known as "the maximizer," Monika is a Leadership Catalyst who has coaches leaders, develops strategy, and implements initiatives with a fierce drive. Authenticity and accountability guide all of her pursuits and interactions.
All of this is what she brings to DyMynd as the Chief Strategy Officer.
Beyond her business pursuits, Monika has won plaudits for her many contributions to the community, including the 2012 Global Girls Women and Girls Inspiring Change Award, the Ohio State University Health Services' Management & Policy Leadership Award, the DePaul University Women, Spirit & Action Award (twice), and the University of Michigan Medal of Honor. Monika is also part-time faculty in the Psychology Department of DePaul University and adjunct faculty in DePaul's Peace, Justice and Conflict program.
Back to Top