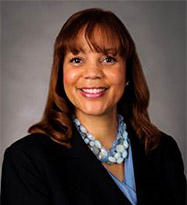 Monique Brinkman-Smith
Advisor
Monique Brinkman-Smith is a Senior Vice President and Managing Director of Wealth Advisory Services for the Northern Trust Oak Street Financial Center. Monique leads a team of experienced professionals that provide comprehensive investment, trust, and private banking solutions to high net worth individuals and families. Monique joined Northern Trust in 2005 as Vice President and Managing Director of the State Street Financial Center. She moved on to manage both the Northwestern and Oak Street Financial Centers in 2010. Monique was promoted to Senior Vice President in 2012.
She brings a wealth of banking experience to her role, including Commercial, Residential and Consumer Lending; Private Banking and Cash Management. Her background has given her a broad perspective on the financial services industry, and the opportunity to successfully meet the needs of both individual and corporate clients. Monique is active within Northern Trust and is past President of the BBRC Business Resource Council and is a member of the PFS Diversity & Inclusion Advisory Council, and the Women in Leadership Business Resource Council. In 2008 and 2009, she was the recipient of the Chairman's Diversity Advocate Award. Monique served as an Illinois Regional contact for the DreamMakers Forum, a national conference focused on wealth management. She has served as Segment Leader for the Affluent Multicultural Market Coalition, a targeted initiative designed to create a comprehensive plan, value proposition; strategies and tactics; to heighten visibility, and generate business opportunities.
Monique has served on the Women of Achievement committee for the Anti-Defamation League. She is a Board Member of the Metropolitan Planning Council. She is a member of the Women's Board of The University of Chicago. She is a Board Member of the Oak Street Council. Most recently, she joined the Advisory Board for Dymynd LLC., She is a Past Board Member of the Chicago State University Foundation. She formally spearheaded the Business Resource Exchange Initiative which offered network, mentoring, and continued learning opportunities for targeted women led businesses in Chicago. In 2003, Monique earned the Small Business Administration (SBA) Financial Services Advocate of the Year award.
Monique received a B.A. degree from Michigan State University and is currently pursuing the Certified Financial Planner designation.
Back to Top