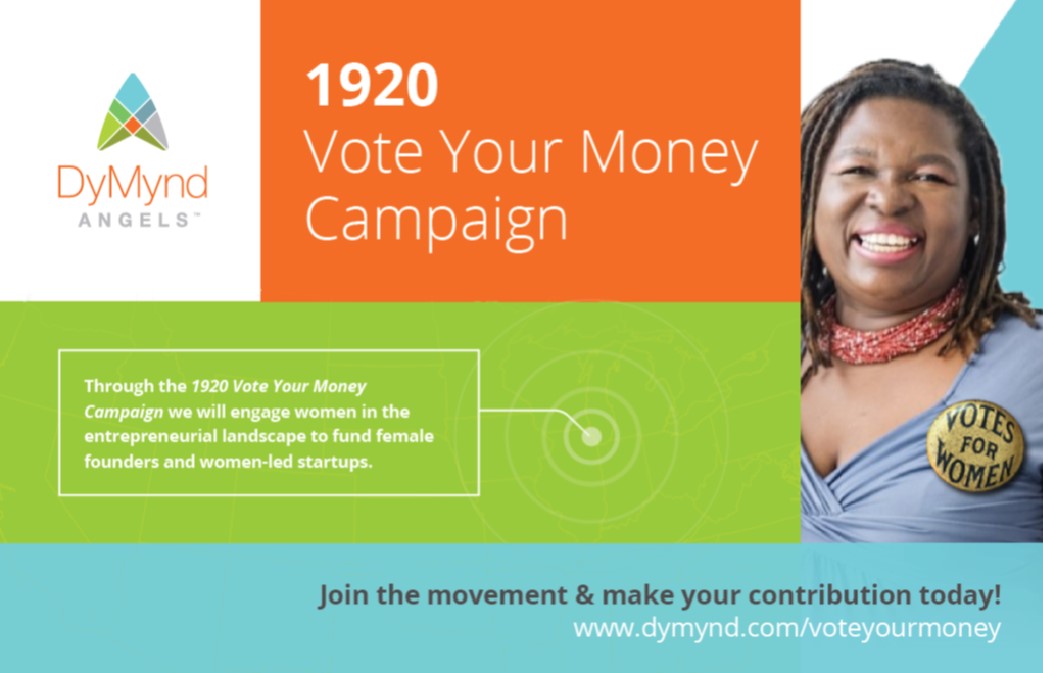 DyMynd Angels is the only Women-led and Female-focused Angel Investing Initiative in Chicago
The DyMynd Angel Initiative can fill the gap for women to get to the next levels of funding. However, we need a model that meets her needs:
The lack of objectivity in early state funding allow for gender bias to drive key investment decisions, traditional funding models result in women only receiving 3% of all VC funding.
There are not enough female angel investors, in the US only 7% of all VC partners are women.
The pitch model is unresponsive to the values and leadership styles of female founders.
Join the 1920 Campaign
The first step to becoming a leader in the DyMynd Angel Initiative is to join the "Vote Your Money" Campaign. Regardless of your investment experience, you can help shift the entrepreneurial ecosystem in a way that truly empowers Chicago's entrepreneurial woman.
We invite you to be one of the 1,920 women we are challenging to donate $1,000, $2,500, or $5,000 (per woman) to collectively underwrite 20 female led start-ups throughout Chicago and the Midwest.
---
Make your Contribution via PayPal
---
In 1920, women won the right to vote in America after years of battling inequality. But somehow, in today's world, women are still not treated equally. In fact, women only receive 3% of all VC funding in the US. For every $100.00 a male entrepreneur receives, a female entrepreneur only receives $2.90! We're saying enough is enough and changing the economic opportunity for women and money, because women deserve the right to equal access for funding.
The "Vote Your Money" Campaign Fund

This is a $1.92 Million perpetual fund to continuously empower female entrepreneurs throughout Chicago and the Midwest

Invest in 20 Female-Led Start-Ups

The DyMynd Angels Investment Committee, comprised of diverse leaders throughout the Chicago entrepreneurial ecosystem, will use a holistic valuation model to select 20 start-ups to invest in.

Reinvest in Her

All profits from will be reinvested in the Vote Your Money Campaign Fund to support future generations of women-led organizations.
DyMynd Angels is an initiative of DyMynd, financial empowerment social innovation firm helping women to understand their emotional relationship with money and unlock their financial empowerment.