Carolyn Leonard of DyMynd Angels™ recently spoke at the Hera Venture Summit in San Diego where she was a panelist on a panel titled the "Future Is Female" on September 16th. "After listening to my fellow female panelist discuss the untapped opportunities of investing in women I am convinced 'women are designed to run the world' and the time is NOW!"
Hera Venture Summit printed a map (recreated below) of the USA with all the female Angel Funds pinpointed on the cities they are located. Well Chicago, a major city smack dab in the middle of the country didn't have one, not one female angel network or initiative! It was stunning. That is until now!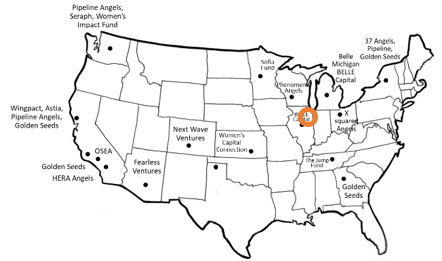 DyMynd Angels launched on Wednesday, September 13th at the Chicago Mercantile Exchange. Kudos to the team. The support we are receiving has been amazing!
DyMynd Angels is an angel investing initiative designed to empower the female investors to get involved in the entrepreneurial space and disrupt the way in which female entrepreneurs access capital.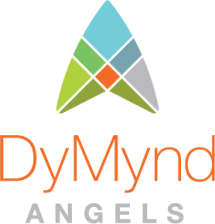 DyMynd Angels recognized the gap and the opportunity and launched with the 1920 "Vote Your Money" campaign to address the gap. Collectively we want 1,920 women to donate $1,000 each to support 20 female led startups in Chicago and the Midwest. Together we can change the funding for Chicago female led companies.
Join The 1920 Vote Your Money Campaign
Be one of the 1,920 women to collectively underwrite 20 female led start-ups throughout Chicago and the Midwest. Make your contribution in the first 100 days and be highlighted as one of the Top 100 Women to support female founders.
Learn More
Chicago has more female founders than any US city and our numbers are growing. Chicago female founders receive only $2.90 of every $100 a male founder receives. Which is deplorable considering that 30% of Chicago's startup founders are women, which is more than any of the 20 cities measured in the rankings.
Thank you to the other "The Future is Female" panelists including Terri Mead, Vice President Sand Hill Angels, Kim Folsom, Co-founder of Founders First Capital Partners & Founder/CEO of LIFT Development Enterprises, Mindy Tucker Fletcher, Partner at Crux Partners. The Summit and the panel were awe inspiring. Dr. Silvia Mah, CEO of Hera Hubs, Hear Labs and Hera Fund is a rock star with unlimited energy and enthusiasm for Female Founders and Investors.